Perlmutter Cancer Center Researcher Combines Gastroenterology and Population Health to Improve Colon Cancer Care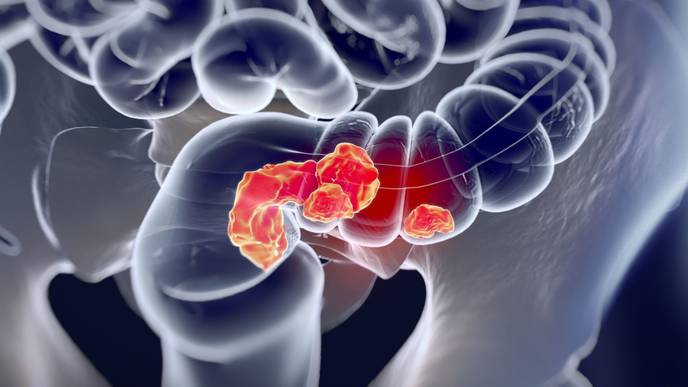 11/17/2023
Aasma Shaukat, MD, MPH, a gastroenterologist and population health expert at NYU Langone Health's Perlmutter Cancer Center, leads an outcomes research program focused on studying colorectal cancer risk factors, screening modalities, long-term outcomes, and quality indicators for colonoscopy. A highly regarded clinician, epidemiologist, and researcher, Dr. Shaukat also investigates ways to minimize barriers and improve screening for colorectal cancer in underserved communities in Brooklyn and beyond.
Dr. Shaukat, who is the Robert M. and Mary H. Glickman Professor of Medicine in the Department of Medicine and a professor in the Department of Population Health at NYU Grossman School of Medicine, discussed her interest in the population health implications of colorectal cancer treatment and screening, her research on using artificial intelligence (AI) to improve the quality of colonoscopy, and more.
What is your background, and how did you become interested in colorectal cancer and the implications for population health?
After I finished medical school, I wanted to focus on clinical research. I trained in epidemiology at Johns Hopkins Bloomberg School of Public Health and developed ideas on population health there. When I started my clinical training, I was focused on things that we see very often in our clinics that have implications for population health. Colon cancer screening and prevention was one of the areas that I was very interested in because it's a very common cancer—it is the third most common cancer for both men and women in the United States. And even though there is a role of prevention through diet and lifestyle changes, as well as chemoprevention with supplements such as calcium and vitamin D, and the great screening tests that we have, we still have a big burden of this condition. I thought that that was an area I could focus on both clinically and research-wise, so I chose to focus on all aspects of colorectal cancer prevention.
How did that lead into your current research interests?
One of my big research questions revolves around the effects of the screening efforts on clinical outcomes. Who does screening help, and are there ways of doing screening better so that we can reduce the burden of colon cancer and reduce deaths from colon cancer at a population level?
After a fellowship in gastroenterology at Emory University School of Medicine, I decided to go to the University of Minnesota because the MINN study—the original and only randomized clinical trial on colon cancer screening in the United States to date—was done there. It started back in 1975 and randomized 46,000 people to either "screening" or "no screening," and the results showed us that screening reduces colon cancer and colon cancer deaths. So I wanted to take a deeper dive into the data and answer some bigger-picture questions. Is that a benefit sustained over 30 years, and is that benefit similar across age groups as well as for men and women? Are there risk factors—such as diet, smoking, or obesity—that still increase one's risk of colon cancer despite having screening?
We eventually published our findings in The New England Journal of Medicine, which showed that screening is very effective and that there are differences in how effective it is for men and women and for different age groups. From there, I also embarked on work to understand newer modalities of screening. And an exciting area: there is potentially a blood-based test that we can use as a screening tool to try to improve our screening rates and then bring individuals who have a positive test to colonoscopy. Understanding if that strategy would improve outcomes for individuals who have screening and also bring the cancer to diagnosis at an earlier stage is some of the work that I'm focused on now at NYU Langone.
The other aspect of our work is improving screening in populations that have low screening rates. The disparities are at their greatest in urban areas in New York City, where across neighborhoods we see very large differences in screening rates and as a result differences in cancer incidence and mortality. One of my grants is geared toward improving colon cancer screening across several federally qualified healthcare centers in Brooklyn by reaching out proactively to people who are eligible, navigating them to screening, and helping them overcome the barriers that they face to show that we can improve screening and improve outcomes.
How does your work as a gastroenterologist and population health researcher intersect with researchers and healthcare providers at Perlmutter Cancer Center?
Perlmutter Cancer Center is an absolutely wonderful resource. It has extremely broad community engagement, and many of the cancer center's members are knowledgeable, but also bring to the table a lot of skills needed for a team-based approach. There are individuals with expertise on the prevention side as well as the therapeutic and the prognostic side. I have been very fortunate to work with such colleagues and use their expertise and connections to identify which populations we need to reach, establish ties to these populations, and then use some of the cancer navigation and other networks that the cancer center has and leverage them for our intervention to improve screening rates. The community engagement and navigation, combined with getting patients plugged into the right kind of cancer care, has been invaluable to my work.
How does your research on population health add to the care for people with colorectal cancer?
We are trying to prevent people from ever developing colorectal cancer. We are focused on the average risk population, which is men and women over the age of 45 who either have not had screening or who have had screening but not completed the whole spectrum of care afterward. Part of what we are trying to do is bring care to those individuals, as well as studying these blood-based cancer tests at a population level so that we can better risk-stratify and identify people who need a colonoscopy. Some of my other work is based on improving the quality of colonoscopy through AI and other tools so we can make colonoscopy an effective procedure for preventing cancers from ever developing by detecting and removing precancerous polyps. In 2022, we published the results of a randomized multicenter study that showed using AI-enabled colonoscopy increased the overall rate of detection of cancerous and precancerous polyps by 27 percent in average-risk patients.
Ultimately, our research is aimed at reducing the number of cancer cases that are diagnosed, particularly at later stages, and cut down some of that work for our oncologists, so they can focus more on treatable cancers, which have a much better prognosis.
Along those lines, how do gastroenterologists work with oncologists to provide care for people with colorectal cancer?
Gastroenterologists would be considered part of a multidisciplinary team, and there are a lot of complementary care models that we share with oncologists. For instance, there are some colon cancers that arise in colon polyps. The first point of discussion is whether we should completely remove them endoscopically and spare patients either surgery. The second aspect is staging the cancer and getting adequate treatment for the cancer, which is where we rely on our oncology colleagues. During "tumor boards" through our multidisciplinary team meetings, we discuss the care for a lot of cancers in which the gastroenterologist might have a role in performing endoscopic resections as well as follow-up in terms of surveillance. The medical oncologists, radiation oncologists, and surgical oncologists also participate in deciding the best care model to treat the cancer and prevent it from ever coming back. We think this model delivers excellent care and allows everybody to bring their expertise to the table for the best outcomes for the patient.
One of the big initiatives for Perlmutter Cancer Center is to reach the communities that we serve so that we are not just waiting for patients to come to us and see us in the clinic, but to make our outreach and our ability to help the communities around us be as good as possible. I'm very enthusiastic and excited to be part of these ongoing efforts. We are going to continue to expand and try to put systems in place where there could be some automation of colonoscopy through AI, and if we detect cancers or polyps that are on the path to becoming cancer in certain high-risk patients, we can identify these individuals and bring them to care even before they think about reaching out to us. Those are some of the streamlined care models that I hope we can develop together as a team.